Welcome to Healing Rocks!
This website is under construction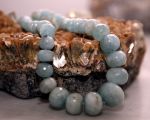 Our rocks are more than geologic specimens! Each stone has been individually worked with to maximize its healing and magical potential. The rocks have been cleansed (See About Cleansing) and charged (See About Charging) with our unique process to amp up their properties, all the better to facilitate their work with you! Our owner and founder, Melissa Morgan, has spent a lifetime working with vibrations (See About Us). She also used healing stones herself, to heal from a chronic medical condition. These minerals are more than beautiful; they are ready to help you realize your life's dreams, help you with your problems, help you heal your body and soul. More than anything else, these healing rocks are ready to facilitate you, taking the next steps in your journey, with grace. Ready to Rock!!
All of our products are unique. Unlike many other businesses, we have chosen to sell you the actual item that you see the photo of. You will not receive a stone &"like" that stone, you will receive that stone itself. After it is sold, it is removed from inventory. Permanently. The only time it is any different than this is when we have a picture of a pile of stones – all set at the same price. Unless you buy the whole pile, that photo will stay up until all the items in the pile are gone. So, what you see is what you get! Each item unique. Mother Nature made them in all their glory and beauty. We cleansed them. We charged them. We charged them some more. Now, they are ready to rock. These stones are ready and eager to help you achieve your heart's desire and your soul's deepest longing.